I'm beginning to overuse the word historic, but that's exactly what these games are, and Day 5 was no different. The big stories coming out of this day again comes from National Indoor Stadium and the Water Cube.
Phelps had water in his eyes during historic swim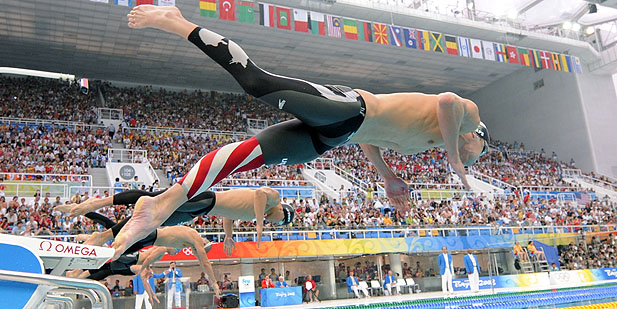 Gold medalist for now the 11th time in his career, Michael Phelps can apparently win gold and break world records with his eyes closed. Apparently, water got into his goggles shortly after he dove into the pool to swim the 200 meter butterfly final, the race that made him the greatest Olympian ever.
"As soon as I dove in, they filled up," he said. "I was more or less trying to count my strokes, hoping I'd be dead on at the turns," he said. "I'm disappointed because I know I can go faster, but there was nothing I could do. I handled it the best way I could."
He won his 11th gold medal in the men's 4x200 meter freestyle relay where the Americans smashed the world record. Now Phelps has his eyes set on the prospect of beating Mark Spitz's record of seven gold medals in a single Olympic Games. His next race is scheduled to be the semifinal of the Men's 200 meter Individual Medley, his only race of Thursday morning finals session. Expected to make the final, Phelps may eventually meet his compatriot Ryan Lochte again, who will challenge Phelps for gold in the final.
But Phelps will be taking it one race at a time, as he has for the past 11 gold medals.
Gymnastics: Unlike men, U.S. women disappointed with silver
There was a stark contrast between the celebrations that the U.S. men's gymnastics team had when they won bronze and that of the American women when they settled for silver. It's been over 12 hours since the team final concluded at National Indoor Stadium and there have been new developments, not to mention accusations, on what happened at the team final.
Among those developments:
- Chelsie Memmel apparently did her only routine of the team final, the uneven bars, on a broken foot.
- Marta Karolyi and her husband Bela arguing that officials on the floor of the gymnastics competition had distracted Alicia Sacramone during her beam routine, which took away her focus on the floor, where Sacramone fell on her back after one of her tumbling passes.
- That same couple continued to argue on how young the Chinese gymnasts are and that they are too young for competition.
In the end, it was the Chinese who came away with gold and it was well deserved after their performance throughout the competition. The Americans succumbed to the pressure while the Chinese shined in front of their home crowd. Time to leave it at that and move on to the all-around.
Georgia Beats Russia on the sands in thriller
Given the conflict going on between Russia and Georgia, their beach volleyball match on the morning of Day 5 was evidence of sports at its best, a stage for peaceful competition, not war.
And on top of that, the match itself was a thriller. The preliminary round matchup ended up being an elimination game between the two teams to determine who out of this group would advance to the knockout round. The Georgian pair of Cristine Santanna (Saka) and Andrezza Chagas (Rtvelo), born in Brazil and are Georgian citizens, ended up winning, 10-21, 22-20, 15-12.
Bloggers and reporters who watched the match are claiming that the amount of attention given to this showdown on the beach was equal to that of a gold-medal match. More importantly, the win gave fans and viewers in Georgia much needed hope as the country deals with bitter conflict.
Later on Day 5, Georgia earned their first gold medals of the games with wins in the judo competition.
From the Associated Press:
"It means very much for our country because of the conflict now," said
Irakli Tsirekidze
, who won gold in the men's 90-kilogram judo competition. "Thank you to my country, thank you to my people."
Just hours earlier,
Manuchar Kvirkelia
defeated
China
's
Chang Yongxiang
in the Greco-Roman wrestling 74-kg weight class for
Georgia
's first gold of the games, and its second overall.
It is ironic that at a time when a country may be suffering its worst times, their Olympic team has its best day of Olympic competition ever.
Georgia wins its first gold of the games
11:00 am EDT (Yahoo! Sports)
Other stories...
- I have to say that the table tennis matches are actually very exciting, especially when you watch it in High Definition.
Guenot wins 1st French wrestling gold in 84 years
8:14 am EDT (AP)
Medal Standings:

Overall medal standings - 143 of 440 medal events complete
Gold Silver Bronze Total
USA 10 8 11 29
CHN 17 5 5 27
KOR 6 6 1 13
AUS 4 2 6 12
RUS 2 7 3 12
ITA 4 4 3 11
FRA 1 7 3 11
GER 6 1 2 9
JPN 4 2 3 9
GBR 2 2 3 7
Join us later for a preview of what should be an exciting Day 6 of competition at the Games of the XXIX Olympiad from Beijing, China.